Pascale Barret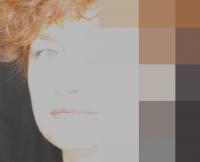 In Situ->video->drawing/ sound->text->performance/ virtual & physical spaces/ avatars->identities->gender & animal Studies->labo-science/ Gueer(Geek&Queer)
"Pascale Barret is a contemporary media artist working with emotions, interaction, intimacy...
Her artistic research builds many links with the scientific research, numerical worlds (data, virtual geometries, avatars, physical and natural models …) and with the physical world and the individual.
Her questions by this search approach topics such as the identity in the metaverse, the place of the body in technology, the representation of oneself in a virtual world, the interactions with mixed environments, presence and immersion, interface between body and technology."
Professor Jacquemin (Informatic) LIMSI-CNRS & Paris 11 University (2010).
http://bit.ly/cyborgeneticcatharsis
Pascale is geocalised in Brussels, Paris, Montreal, Berlin and on the Net.
---
---