pinar yoldas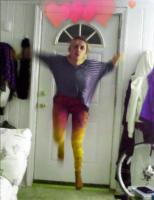 Pinar Yoldas is a cross-disciplinary artist, all-in-one designer and a neuro-enthusiast.
Through her work she investigates social and cultural systems in regards to biological and ecological systems. Lately she has been designing mutations, tumors and neoplasmic organs to rethink the body and its sexuality transformed by the mostly urban habitats of techno-capitalist consumerism. Her current project Speculative Biologies simulates the experience of a " natural history museum of the future" showcasing Species of Excess elegantly caged in incubators, jars, aquariums.
Pinar's work has been exhibited internationally including Bologna(Italy) , Torun(Poland), Istanbul, Frankfurt, Providence, Portland, Berkeley, New Mexico and Los Angeles. She has been awarded residency fellowship grants at MacDowell Colony, UCross Foundation and VCCA. Her artwork has been featured in Wired Magazine(online), Digicult(online) and Beatiful Decay.
Her research interests include evolutionary aesthetics, art-neuroscience interactions and subversive gaming environments . She is an active lab member of s-1: Speculative Sensation Lab, led by Mark B. N. Hansen (Duke University) and UCLA ArtSci Center + Lab led by Victoria Vesna (UCLA).
She has held teaching positions in Istanbul KH University , UCLA and Duke University and has led workshops in physical computing, programming and interface design. Pinar has a BArch from METU , MS from ITU , MA from Istanbul Bilgi University and an MFA from UCLA.Currently she is a PhD student in the  Art, Art History and Visual Studies department at Duke University.
Check her latest project Speculative Biologies and more at http://pinaryoldas.info .
---
---