Praba Pilar
Submitted by
praba
on Fri, 27/03/2009 - 06:03.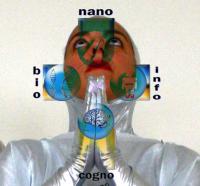 Bay Area/Colombian Praba Pilar is a performance artist, technologist and cultural theorist exploring aspects of emerging technologies which generate new forms of economic, environmental and sexual exploitation and erasure. Deeply rooted in Latino communities, she has spent the last decade presenting site works, performances, street theatre, writing and websites which provide a counternarrative to the overarching rhetoric about the beneficence of biotechnology, information technology, and nanotechnology. Her projects include the Church of Nano Bio Info Cogno; the Cyborg Soap Opera; Computers Are A Girl's Best Friend; El World Brain Disorder; Humaquina: Manifest Tech-Destiny; Techno-Promesas: Putografia Virtual; Global Warmaquina; Edu-Maquina: De-Educacion; and Webopticon: Arquitectura of Control.
Pilar's collaborative and solo work has been featured at Center for the Arts at Yerba Buena, the Museum of the African Diaspora, the San Francisco Museum of Modern Art, the Los Angeles Museum of Contemporary Art, Studio XX and the Darling Foundry in Montreal, the Museum of World Culture in Sweden and the Arte Nuevo Interactiva '05 Biennial in Mexico. Her performances have been presented at universities, galleries, conferences and public streets throughout the United States. Pilar is the recipient of numerous awards, including the UC Davis Presidential Pre-Doctoral Award, the Puffin Foundation Award, the Creative Capital Award, the Creative Work Fund Award, and the Potrero Nuevo Fund Award and two nominations for a Rockefeller Award. Her work has been featured in cTheory magazine; in the books TechKnowledgies: New Imaginaries and Transmigrations in the Humanites, Arts and TechnoSciences, edited by Mary Valentis (2007); in Naked on the Internet, by Audacia Ray (2007); and in The Civil Disobedience Handbook: A Brief History and Practical Advice for the Politically Disenchanted, edited by James Tracy (2002). She was featured in a book on inspirational women by Cathleen Rountree, On Women Turning Thirty: Making Choices, Finding Meaning (2000). She is now pursuing a doctorate in Performance Studies at the University of California at Davis.
---
---