Ana Carvalho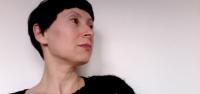 With a focus on visual communication, I extend my interests across disciplines and areas of knowledge, feeding a strong curiosity about everything. Central subjects to my work are identity (collective and individual), memory and uses of technology. Art projects evidence process as art and are practical reflections on fictional biography, social utopias, ways of knowing and women's achievements. Outcomes take form of texts (books), photographs, installations and live audiovisual performances. Blogging is used as reflective tool on processes and results.

I am PhD candidate on Communication and Digital Platforms at Faculdade de Letras, Universidade do Porto, in Portugal. The title of my thesis is: "Materiality and the Ephemeral: Identity and Performative Audiovisual Arts, its Documentation and Memory Construction". I write on these subjects and recently became regular contributor to the online magazine Digimag.
Currently I held a position as invited lecturer at the Instituto Superior da Maia, in Portugal.
My contribute to live audiovisual performance as a group of intermedia practices has a very strong collaborative component, visible in projects that combines theory with practise, curatorial actions with the creation of new contexts.
- Since 2004 I have been performing under several persona, experimenting and improvising with technology and everyday life objects and subjects, presenting work in Cornwall (The Exchange Gallery), Paris (VisionR), New York (Monkeytown), Guimarães (CCAV) and in Lisbon and Porto.
- Since 2005, I have been co-editor of VJ Theory - a community interested in publishing (online, print and digital format) theory in development that informs and is informed by practise, presenting the project at festivals (Mapping in Geneva, VisionR in Paris and LPM in Rome), symposia (Indiana University, University College Falmouth) and at the event Late at Tate (which took place at the Tate Modern in London).
- Between 2007 and 2009, that I co-organise yearly regular events called abertura in Lisbon and the irregularly (in schedule) events projecta-S in Porto.
---
---