Josely Carvalho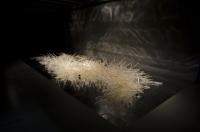 My individual work as an artist has developed within the structure of a visual diary - a journal, perhaps a journey. "Diary of Images", the name I have given to the body of my work, is an on-going process, a record of events, an exposé of cultural issues, a receptacle of personal and collective memories. From photo-silkscreen to video, from physical to digital, the body of my work in the last 30 years can be described as an open hybrid book. At present, I have added olfactory art as a new medium and its capacity to resurface emotions and individual/collective memories.
As a U.S./Brazilian artist, I have, in the past organized exhibits and events presenting the work of Latin American women artists. I am now re-thinking new structures which would include the global community in collaborative virtual projects. I have been involved with feminist issues and groups such as Heresies Collective, WAC, Fantastic Coalition of Women in the Arts and Whatevers. I have been a member of Faces (email list) for several years.
Some of my recent individual exhibits are: Diary of Smell: Passages at SESC, São Carlos, Brazil (2011); Diary of Smells: URU-KU, the forgotten disciplines at Casarão, Viana, Brazil (2011); Diary of Smells: Nidus Vitreo at the Museu Nacional de Belas Artes, Rio de Janeiro, Brazil (2010).
---
---