Artivistic TURN*ON Transdisciplinary Festival
Submitted by
eMTv
on Mon, 21/09/2009 - 18:06.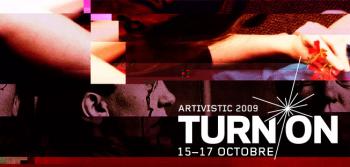 The world to come is so sexy.
We are unstoppable for we are fueled with an incredible urge to embrace the pleasure provided by difference, exchange and liberation. Our actions today are charged with an energy that is animated by the rise of change and a movement that is simply irresistible.
For its upcoming fourth edition, Montreal-based festival Artivistic is going sexy. From October 15 to 17, 2009, we invite participants to discuss, question, and imagine the proxemics of sexuality, technology and politics.
While keeping issues of power and control in question, we want to turn to the potency of pleasure, curiosity, humor, and desire in order to TURN*ON that which has yet to be thought and experienced differently.
Artivistic is an international transdisciplinary three-day gathering on the interPlay between art, information and activism. Artivistic emerges out of the proposition that not only artists talk about art, academics about theory, and activists about activism. Founded in 2004, the event aims to promote transdisciplinary and intercultural dialogue on activist art beyond critique, to create and facilitate a network of diverse peoples, and to inspire, proliferate, activate.
Find out more at http://artivistic.org/en/content/about and discover the various projects and participants...
TURN*ON invites us all to reimagine our sexualities. It further invites us to rethink our organizational modes in the view of building solidarity and autonomy in the context of art & activism organizing. Alongside other initiatives, the Artivistic collective is putting together TURN*ON's p2p solidarity fund.
If we ALL decide to be in solidarity with projects like this one that have less access to institutional or private funds, then slowly, gradually, we will be also contributing to wider collective efforts of self-organization within art & activism organizing. In a few years, we could actually be more confident in the possibility of saying F*you to institutional/corporate/hegemonic funding !
You can help us in making this happen! Click here to participate to the p2p solidarity fund.
To date, supporting organizations have contributed to TURN*ON's p2p solidarity fund by way of partnerships that take the form of co-presentations. For instance, artist-run centres such as Studio XX and OBORO, and universities such as Concordia and McGill, have secured infrastructure to welcome some workshops and lectures.
Other examples include TURN*ON participants in Nantes (France) taking the initiative to organize a local fundraising event in order to help cover their travel expenses but also others'. We welcome similar initiatives, whether collective or individual, between participants and/or with their peers.
TURN*ON's schedule will be made available shortly.
As well, some participants will also unveil their own project's line-up gradually on the blog... Visit our website regularly (and/or ) to be kept up-to-date!
---
---